Skills Development

Individual executives need continual improvement in their performance, leading to future promotions and greater job stability.

The Peter Principle states that in business, one is promoted to their lowest level of incompetence. This principle is mitigated with effectiveness coaching. Promotions require new job skills, and responsibilities.
Your coach helps you identify and develop new skills to succeed.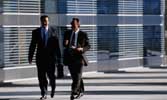 Performance Enhancement

The most successful executives recognize the need to improve.
Our form of coaching is dedicated to helping executives fine tune performance in their job, assess where performance could be improved, obtain feedback on strengths and weaknesses and enhance overall effectiveness.
Career Advancement

Coaching prepares executives for advancement by identifying which behaviors and habits from previous roles no longer serve you.
We assist in enhancing your overall effectiveness in higher levels of the organization by recognizing and honing your most effective behaviors.