Enhancing Individual Performance
Team performance and success is affected by, and dependent on, individual performance and issues.
By working with members one-on-one, as well as with the team as a whole, individual issues are addressed, strengths are identified and leveraged, and areas of growth are cultivated.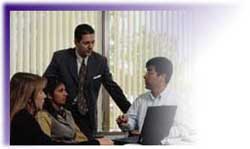 Everyone on a team has their own way of seeing things — their own belief systems. Team Coaching allows members to understand unique structures of interpretation, and helps them discover what is holding them back individually, and how this impacts the organization.
The individual is encouraged to explore these discoveries, and inevitably bring a new level of awareness, commitment and ability to the team.